4th General Meeting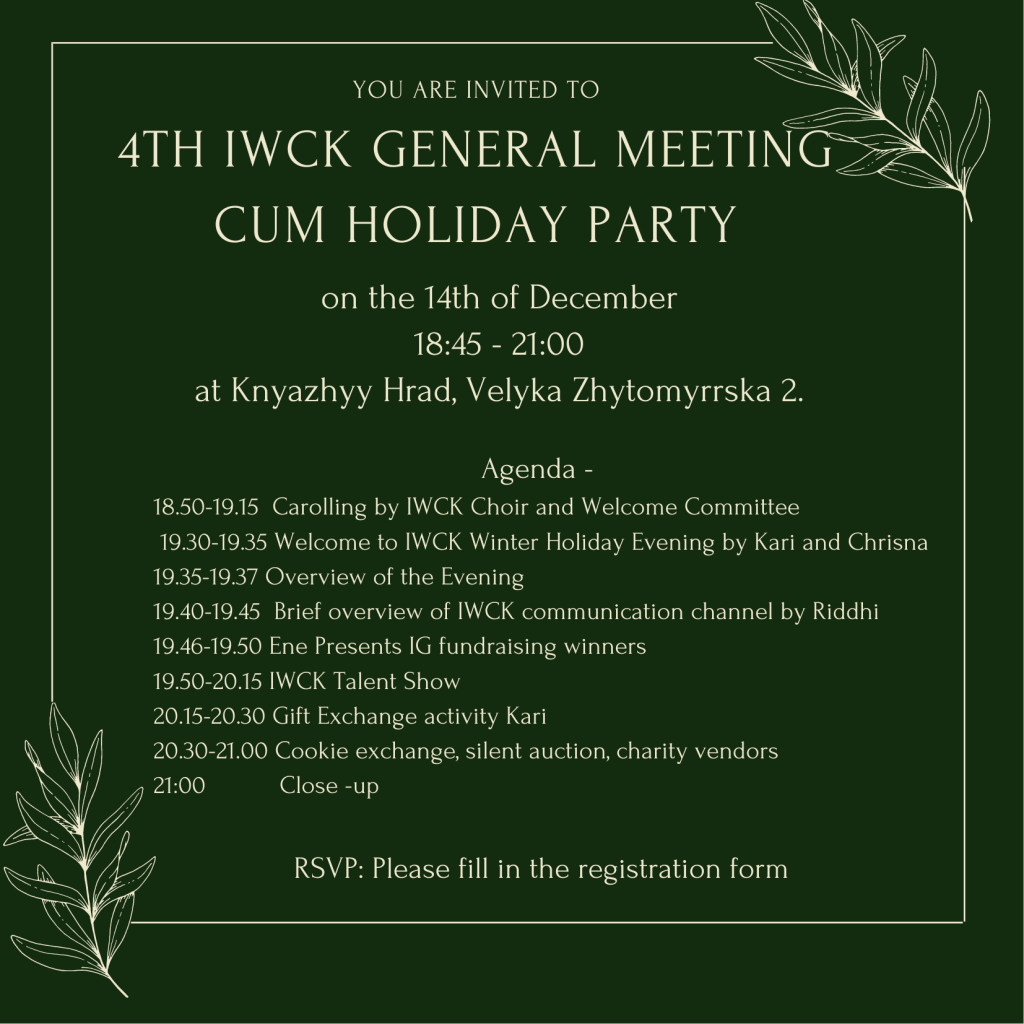 Dear all,You all are invited to our December General meeting cum Holiday Party on 14th December. This meeting is gonna be special in many ways. Check out what is planned for that day –
IWCK talent show – we are waiting for different performers of our club (singers, dancers, actors etc) to show their secret talents and hobbies! the time allotted is 3-4 mins. You may register with Ene Mii Kuusk.
IWCK Christmas choir – we are performing with nice international Christmas carrols (rehersals on Thursdays at 11.00 with Elizabeth Kourkov). If you would like to take part, please get in touch with Singing group/Ene Mii Kuusk
Gift Exchange – Please bring a gift (gift wrapped) worth 300 UAH for the Holiday Tree if you would like to participate in our Gift Exchange! It could be anything from your country/vine/or anything that you would like to bring.
Holiday Cookies Exchange – Those who enjoy sharing are encouraged to bring baked goods for a holiday cookie exchange.
Exhibition – In addition to this we are opening an exhibition, where everyone could bring their piece of art they would like to show for others (it could be something made in IWCK interest groups – paintings, Pysanka etc or any handmade work).
Charity Market – Here you can sell/buy homemade products made by our members.
So if you are planning to join, please fill in the registration form https://forms.gle/2oxct6ZUSo5ZsNBcALooking forward to seeing you))
Date • 12/14/2021
Time • 18:45 - 21:00
Place • Knyazhyy Hrad, Velyka Zhytomyrrska 2
To see the full list of the Events, follow the link.